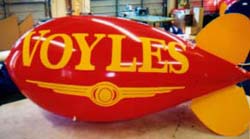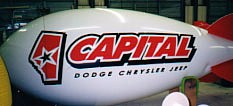 Advertising Balloons, Big Advertising Blimps, helium inflatables, helium balloons, helium blimps and giant balloons manufactured in the USA.

We have one of the largest selections of big advertising blimps and helium advertising balloons available for sale, service and rental.
We offer many different sizes of big advertising blimps. And assure the best quality in Advertising Blimps.
Advertising balloons are a cost-effective means to convey your message. Blimps can be made custom by having the body one or more colors and the fins one or more different colors. Larger advertising blimps can also have hanging vertical banners attached to them.


Big Advertising Blimps Work!

Do you need a giant billboard over your site? That is exactly what one of our balloons or big blimps will be like except for a fraction of the cost! Can you rent a billboard that will be 100 feet in the sky and attract attention from miles away?
Balloons and Blimps are Better than billboards!
Give Brenda a call at 1-800-791-1445 for your balloon!
EMAIL Brenda for big advertising blimps!

Advertising balloons will attract attention!